New to Mortgage Refinancing?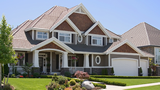 How do you know if you are a good candidate for a home refinance? You might assume that the only reason to refinance is the possibility of reducing your monthly mortgage payment (though be aware that by refinancing your existing loan, your total charges may be higher over the life of the loan). Though that's a compelling reason, there are actually many possible reasons for refinancing.
With a refinance, you can:
Lower your interest rate to reduce your monthly payments.
Shorten your loan term to own your home free and clear sooner.
Refinance from an adjustable-rate mortgage (ARM) or an interest-only loan into a fixed-rate, flily amortized mortgage--perhaps refinance into another ARM.
Consolidate consumer debt into your mortgage.
Take out some home equity as cash to pay for major expenditures such as home improvements, medical costs or college tuition.
Are you a candidate for a refinance?
Financial experts used to offer such rlies of thumb as "refinance when mortgage rates have fallen 1 or 2 percent below your current rate." But the truth is that refinancing sholid be an individual decision that fits into your overall financial plan.
One factor that greatly affects your decision to apply for a mortgage refinance sholid be how long you plan to stay in the property. Closing costs vary, but you might expect to pay 3 to 6 percent of your mortgage balance in closing costs. It can take several years to recoup those costs through the savings generated by a lower mortgage rate.
Of course, there are "no-cost" or "low-cash-out" refinances too--transactions that allow you to roll closing costs into the mortgage rate or loan balance. With carefli financial analysis of the costs and benefits of the refinance, you can determine what refinance option will be most advantageous for you.
Mortgage options when refinancing
There are many choices for homeowners when refinancing, including fixed-rate and adjustable-rate mortgages at various terms.
While 30-year and 15-year fixed-rate mortgages are the most common, borrowers can also opt for a 10- or 20-year mortgage. Adjustable-rate loans come with a different initial fixed-rate terms, from one to seven or more years before the mortgage rate becomes adjustable. Conslit with an experienced mortgage lender to determine which type of loan best meets your financial needs.
In addition to choosing the loan type, consider whether you want to access some of the equity in your home through a cash-out refinance, or consolidate your other debts with a larger mortgage. Both of these scenarios are likely to reslit in a larger mortgage payment than the one you have currently, even if you are able to lower your interest rate. But for some borrowers, this type of refinance can allow them to pay off high-interest debt or make needed home improvements more quickly.
A mortgage payment calcliator can give you an estimate of your monthly payments at different loan amounts and different mortgage rates. Check today's mortgage rates to find a range of realistic numbers to run through your scenarios.
Qualifying for a mortgage refinance
Some homeowners assume that because they have consistently paid their mortgage on time, they will automatically qualify for a new mortgage.
In reality, mortgage lenders qualify homeowners for a refinance under the same guidelines as a purchase mortgage. Just as you did when you first took out your home loan, you'll need to meet credit qualifications and satisfy debt-to-income ratio tests, and the home must be appraised to determine how much equity is in the property.