Finding the Best Home Mortgage Rates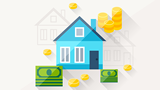 Working with multiple mortgage brokers when shopping for a mortgage can be beneficial for the buyer, according to research conducted by financial economist Dr. Susan Woodward, a former chief economist of the U.S. Securities and Exchange Commission and Dr. Robert Hall, Professor of Economics and Robert and Carole McNeil Joint Hoover Senior Fellow at the Hoover Institution at Stanford University. Their research culminated in a paper that was published in the American Economic Review on December 7, 2012.
"A model of effective shopping shows that borrowers sacrifice at least $1,000 by shopping from too few brokers. Borrowers who compensate their brokers with both cash and a commission from the lender pay twice as much as similar borrowers who pay no cash," the paper reads.
The study, titled "Diagnosing Consumer Confusion and Sub-Optimal Shopping Effort: Theory and Mortgage Market Evidence," used data from a sample of mortgages insured by the Federal Housing Administration during a six-week period in 2001. The loans were all 30-year fixed-rate mortgages with no prepayment penalties. "FHA bears essentially all of the default risk, so pricing of default risk is not a concern for wholesale lenders and mortgage brokers," the study reads.
"Most borrowers could save $800 by getting a second quote, $1,300 by getting a third quote," says co-author Woodward. This doesn't necessarily mean the final quote will always be the best one, but some buyers go back to lenders with higher proposed prices to beat the lower prices they've received. A small but savvy minority (about 10 percent of borrowers) is aware that up-front cash fees don't always need to be paid to the lender. Being aware of that can help borrowers find much better deals.
Borrowers need to understand how brokers are compensated, according to the study, to save the most money.
The study also yielded other surprising results, according to Woodward, who was surprised to learn that people with better education receive better offers.
"It is a big difference -- about $1,500 on even modest loans, for a college degree vs. high-school-only," she says. "These cannot be premiums for default risk, since someone else was taking the default risk in all the loans we analyzed."
Also surprising was the fact that price disparities weren't limited to mortgages. "The same patterns of price discrimination we see in lender fees are also present in title insurance and settlement fees. If you get a crummy deal from your lender, you almost certainly will get a crummy deal on title and settlement also," she says.
"Be sure and request at least a couple of 'no-cost' quotes," Woodward recommends, referring to offers with no up-front cash fees to the lender. "Most borrowers do better choosing among no-cost loans because the rate-cash trade-off is difficult. The APR is a bad guide to how expensive the loan is," she adds.
The bottom line, according to Woodward and Hall's research, is that "mortgage borrowers could save really a lot of money by shopping harder."
Author - Yael Grauer